Did you know that Zoom Meetings can be live streamed? And PolyStreamer can forward your meeting to all your destination platforms, be it multiple Facebook Pages and Groups, YouTube, Twitch, etc.
Streaming a Zoom meeting can be a great way to conduct multi-site events — imagine conducting an interview from across the country, or streaming a church service while snowed in at home.
Read on to get it setup, as well as discover a few important details about how it works.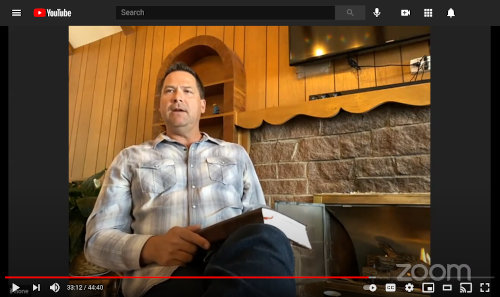 Pre-requisites
Complete details are available in the Zoom support article, but most prominently you must have a paid Zoom account. Live streaming your meetings is not available with a free Zoom account. While there are various account types and settings, we'll cover the standard Zoom user account and standard meeting.
Zoom Account Setup
In your Zoom Account Settings page, scroll down (or search the page) to find the Allow livestreaming of meetings toggle and enable it. Check the Custom Live Streaming Service box: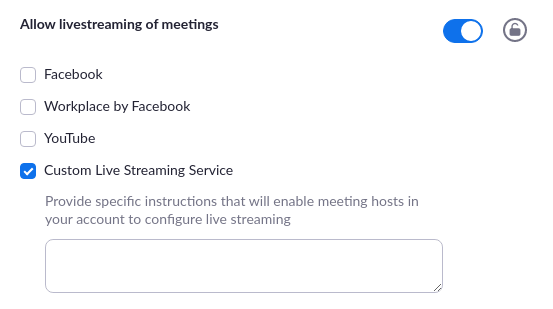 PolyStreamer Setup
We'll assume you've already setup your destinations on your PolyStreamer Dashboard (as outlined in our overview video.)
Click the Start Streamer button to setup your stream's title, description, and start time (either now or scheduled for some future time.)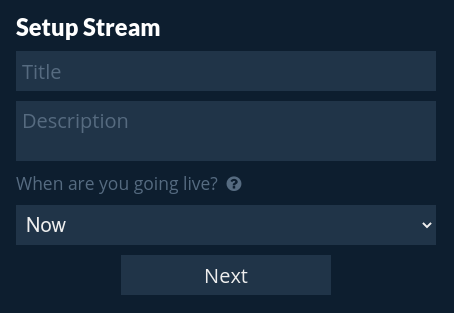 Click through the setup, and PolyStreamer will prepare your destination platforms. Afterward, it will show Awaiting your video stream!
Now, copy the server URL and stream key (by clicking the icon next to each) — you'll paste them into Zoom in the steps below:
Start Streaming Your Zoom Meeting
In a running Zoom meeting where you're the host, click on the More button, and click the Live on Custom Live Streaming Service option.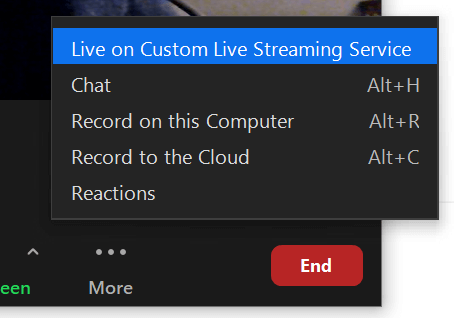 This will take you to the Zoom website, where you'll paste in the Server URL and Stream Key copied from the PolyStreamer dashboard: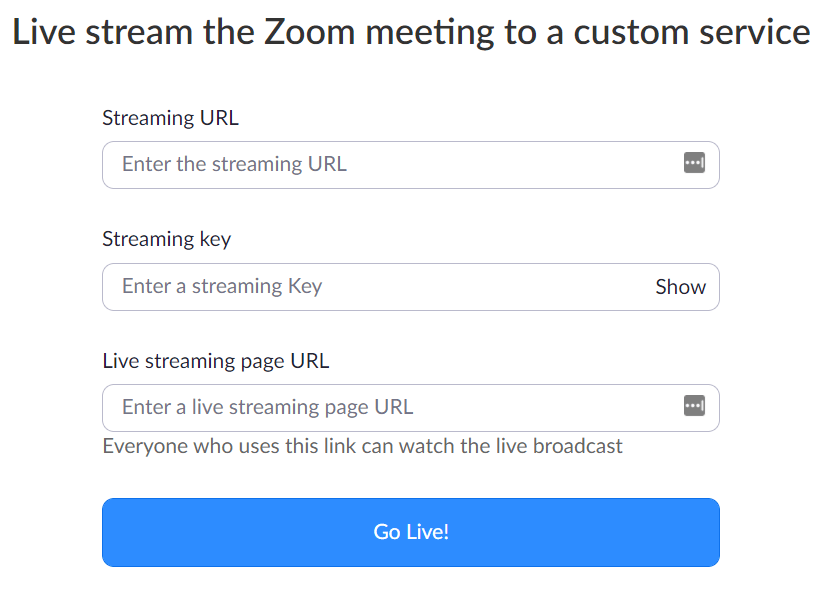 Zoom requires you to fill out the third field, Live streaming page URL. It's technically made available to the Zoom participants, but it may not be necessary / useful to distribute this link. You might just put the URL to your website (starting with https://), or your YouTube channel URL.
Once you click Go Live, Zoom will start streaming your meeting to PolyStreamer, which in turn, starts streaming to your programmed destinations! An indicator overlay shows all participants that the Zoom meeting is being live streamed:

What Does The Stream See?
It's important to note that the stream doesn't always see exactly what you see in the Zoom app. Here's what the stream sees (as tested in Zoom version 5.5.4):
Participants enjoy a typical, low-latency video call. But as always, the live stream is delayed by 10-30 seconds.
The stream does not see the buttons on the bottom, the chatbar, or any info overlays.
If you, the meeting host, are in gallery view, then the stream sees all participants who have video on. The stream does not see participants who have their video off.

As host, you can turn participants video off, or ask it to be turned on.
The stream hears all unmuted participants, even if they don't have their video on.

If you are in speaker view, then the stream sees only one participant, whoever is actively speaking. They do not see the row of thumbnails of the other participants.
If you share your screen, then the stream sees the shared screen with a thumbnail of the active speaker.
If you click the 3 dots on a user, and select spotlight for everyone feature, it sets the mode to speaker view, and locks that one speaker (so they are always displayed in the stream.)
Perhaps most confusingly: when you spotlight multiple participants at the same time, on your screen it shows them simultaneously, but in the stream, it still only shows one participant - the active speaker from among the users with spotlight enabled.

If you want the stream to show multiple participants, but not all the meeting participants, then the only way is to disable video on all the other participants, and be sure you're in gallery view

A Zoom watermark is overlayed on the bottom right-hand corner stream - you can customize it if you have a Business, Enterprise, or Education account.