PolyStreamer is a great way to get churches streaming to both YouTube and Facebook at the same time. In fact, PolyStreamer was designed with churches in mind. Churches need an affordable streaming solution, to the most popular platforms, without a ton of bells and whistles.
Please enjoy this guide written by the folks at Hillside Community Church, early adopters of PolyStreamer, who like so many churches had to figure out a budget-conscious streaming solution on short notice this past year.
There are endless workflows and possibilities when it comes to live streaming. The goal of this article isn't to cover everything, but to overview a number of technical considerations in getting your church started with live streaming. Pulling from our own experiences at Hillside, hopefully we can fast-track your progress, and help you avoid some common mistakes. Here are the topics we'll cover:
Where (and Why) to Stream Your Church Service
Before the pandemic, our church probably wouldn't have seriously considered live streaming our services. An essential part of church is the body of Christ meeting together in fellowship. But COVID made it necessary to meet in smaller numbers, and to provide online options for at-risk people. Make no mistake, we value our in-person meetings — there's no replacing that connection, and we're looking forward to when we can pack our sanctuary again. But streaming is a tool we can use to keep our body connected.
And there have been other benefits as well: missionaries around the world can join us, as well as families and friends who live far away. For these reasons, we plan to continue live streaming, viewing it as another way we can further the gospel of Jesus Christ beyond our building.
Practically, you must decide where to stream your services. Many platforms exist, but for us, the combination of YouTube and Facebook hits a sweet spot:
YouTube is hugely popular, and available on virtually any computer, smartphone, smart TV, or TV-connected device; no login required. The YouTube visibility options allow your stream to be fully public, or publically available but unlisted (viewers must have the link to find the stream).
On Facebook, our church has a private group, meaning that only users we approve are allowed in. We approve only our congregation members, and stream to the private group, which gives our congregation a place where they can watch the stream and comment privately. We encourage them to chat and welcome each other in the time leading up to the service.
The platforms may monetize the streams, but to date, we've never seen any advertisements interrupt our live streams. On both platforms, the live streams are available as videos after the service ends, though you could choose to remove them. Just keep in mind that anything streamed publicly could potentially be recorded and made available at any time, by anyone. You might consider not streaming personal events or portions of your service.
Setting Up YouTube and Facebook
On YouTube, you must verify your channel to enable live streaming. This requires a 24-hour review period. They also note that you must have 1000 subscribers to stream from a mobile device, but this only applies to the YouTube app, and not when streaming through PolyStreamer.
On Facebook, you'll first want to decide whether you're going to post to a Group, a Page, or just as your normal Facebook account. In any of those cases, you can choose to make the stream visible to the "Public" or "Only Friends".
If you choose to stream to a group, first create a group if you don't already have one, and invite your viewers to the group. You'll also need to install the PolyStreamer app into the group settings — there are instructions for this when you go to connect PolyStreamer to your group.
If you choose to stream to a Page, first create a page if you don't already have one. You can invite your viewers to "like" the page, or just share the page with them.
If you just want to stream as your peronsal Facebook account, to your profile, then there's no setup required.
However you decide to set it up, communicate to your congregation when and where to find your live streams. Perhaps share the link your YouTube Channel or Facebook Group in an email newsletter or on your website.
The link to your YouTube channel will look something like this: https://www.youtube.com/channel/UCay6q-pPS8CIelaj_25nCtQ and you can customize your channel page (add a logo, feature current live streams, automatically list past live streams, etc.) under the Your Channel button on the YouTube website. For example, here's our YouTube Channel.
The link to your Facebook Group or Page might look like this: https://www.facebook.com/groups/1048533112283241 or might have your group name in it. It's ok to share this link even if the group is private — they'll have to be logged into Facebook before they can access your group. Your Group or Page page can be customized with a logo, banner, and more.
Finally, when you are testing your setup, you can stream to YouTube as "Private" or "Unlisted" and to Facebook as "Only Me" and you won't have to worry about people seeing your test streams.
Why PolyStreamer is a Great Fit for Churches
There are a number of services that allow you to stream to multiple platforms at once, ranging in price from free to hundreds per month. The free ones will typically brand your streams with a watermark or links to their websites. The expensive ones will wax poetic about their features or their reliability. For us, as a church:
We only need to stream a couple hours per week,
We don't want any added branding or links
We don't need a bunch of fancy integrations, live chat, or 30+ platforms.
Of course we want reliability, but we're not going to break the bank when a cheaper option works great, week in and week out.
PolyStreamer's affordable, usage-based billing, and simple, reliable, watermark-free service is well suited to our needs as a church.
If you're brand new to multistreaming, read more about how it works.
Hardware - The Simple Options
A live stream is just audio and video — it sounds simple, doesn't it? But there are so many considerations when you start to dig in: the camera, the mic, the lens, the camera angle and field of view, powering the camera, cabling, audio, how A/V will be combined, encoding, how and where it'll be streamed... And that's still just scratching the surface. So it may help to consider the simplest options first, and then build from there.
Using Your Phone or Tablet
At the very simplest, your iPhone or Android smartphone can accomplish this whole task, all in one. While this may not be the highest quality option, it is the easiest to setup, and may be a good backup option in a pinch or at a remote location.
There are a few limitations when using a phone to consider:
The phone needs to be close to the speaker, both for framing the shot, and for acceptable audio levels. You'll need a stand or tripod holding the phone roughly 4-8 feet from your subject. That can get in the way, if you also have an audience to consider.
You should use a power adapter or fully-charged device.
You should use wifi, as data costs from your cell provider could be expensive.
We used a phone for a few weeks in April 2020, and again, it works reasonably. A TV in the background can even achieve rudimentary in-stream projection:

The FAQ lists a couple apps that will let you broadcast video to PolyStreamer from your iPhone or Android device.
Using Your Laptop's Built-in Camera
A laptop (or a desktop with a webcam) is another all-in-one device with AV capabilities. Its advantages and drawbacks are similar to using your phone, though be aware — laptop built-in webcam quality may be hit or miss. A laptop stand will probably be even more intrusive than a tripod. This was also something we experimented with during the few weeks that we had no in-person audience: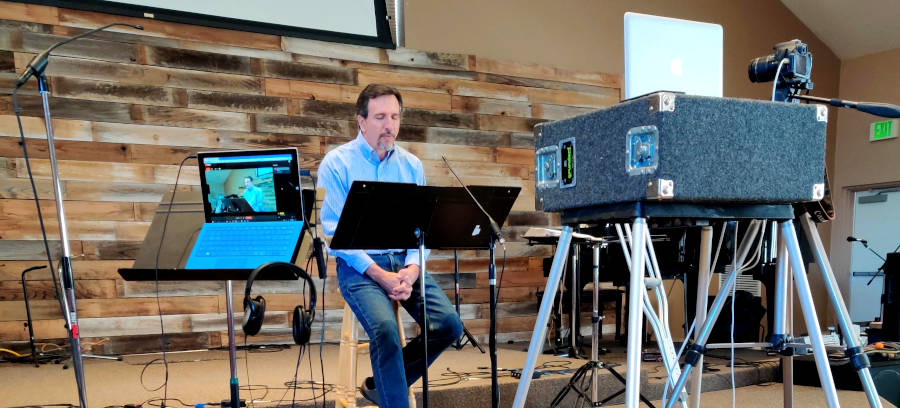 You can also use a common USB webcam in this way. High quality USB webcams have been in short supply, and they also typically have wide angle lenses, so they'll have to be close to the speaker. You'll want to look at high-end models, such as the Logitech c920 series, as well as the Razer Kiyo.
Hardware - Using a Dedicated Camera
If you're looking for the higher quality in your stream, look into a dedicated camera with quality optics. Popular types of cameras for getting started include PTZ-style conference cameras (such as HuddleCamHD, or PTZOptics), camcorders, and DSLRs (such as Canon, Nikon, Sony, etc).
PTZ cameras are purpose-designed for computer-connected video, and usually have motorized pan-tilt-zoom controls. They'll be one of the easiest ways to get started streaming.
Camcorders tend to be easy to use, but image quality on budget models can be hit or miss. They typically output HDMI (which requires an HDMI encoder — more on that below.)
DSLRs tend to be more complex, with various photographic settings, and varying levels of support for video streaming: be sure your DSLR has "clean HDMI output" (which means that it can be set to not output on-screen graphics into the HDMI feed) and does not have a video limit. The interchangeable lenses make DSLRs versatile, and allow unparalleled image quality and creativity. A DSLR may require an AC power adapter, an external pan/tilt mechanism, and controls like manual focus and zoom are not motorized (without external mechanisms.)
For more in-depth info on camera selection, see the recommended videos below.
BUT — before you go and buy a camera, you'll first want to consider your church's physical layout, lens / zoom requirements, where you'll mount the camera, and even how different cameras connect to your computer. All that will help you choose the right camera for your unique situation, and that's what we'll explore in the next few sections.
Connecting Your Camera to Your Computer
Most cameras will output video in one (or sometimes multiple) of a handful of ways, typically via: USB, HDMI, SDI, or network-connected protocols like NDI or RTMP. The camera connectivity is important, as it dictates 1) what hardware (if any) you'll need to get the video into your computer, and 2) maximum cable length (which further limits your camera placement and camera angle options.) The below maximum cable lengths are averages, and vary based on the signal, wire, and environmental conditions.
USB is the most convenient and inexpensive, as it connects to your computer directly without the need for a hardware encoder. One drawback is the maximum cable length of USB is around only 15 feet. Beyond that and you may need a USB extender.
HDMI is widely available, and popular on most DSLRs. It has a maximum cable length of ~50 feet. Note that there are mini-sized HDMI connectors on some DSLRs. If your camera produces HDMI output, you will need an HDMI encoder. (see below)
SDI is another common output. It has a maximum cable length of ~300 to 1200 feet. If your camera produces SDI output, you will need an SDI encoder. (see below)
Both NDI and RTMP are network-connected protocols. That means your camera will connect to the network, whether via ethernet cable or wifi. Ethernet cable has a maximum cable length of ~300 feet. If your camera outputs NDI or RTMP, you will not need an HDMI encoder, but they will require some configuration, both of the network on the camera and in your streaming software to receive the feeds.
I don't recommend transmitting your camera feeds over wifi. In my experience, I've struggled with variable signal latency, which makes syncing audio and video a constant, weekly struggle, and few things are as distracting to a live stream than lips moving out of sync with the audio.
Encoders / Capture Cards
If your camera outputs HDMI or SDI, your computer needs a way to ingest that video. You need an hdmi or sdi encoder or "capture card". You can get encoders that attach via USB or thunderbolt, or in the form of PCIe cards (for desktop computers). You can also get network-attached encoders. They come in single or multi-channel devices. You can get encoders that support input resoluations of 1080 or 4k (if your camera supports 4k). Even if you aren't going to steram in 4k, a 4k camera / encoder lets you crop / digitally zoom while maintaining quality.
Remember, if your camera connects to the computer with USB, then it doesn't require an encoder.
Tip: HDMI encoders can be used to capture more than just cameras. You could use one to capture the output of a projection system to be included in the broadcast. We use a second HDMI encoder and an HDMI splitter from our projection display, so that the same content that's on the projector in the sanctuary (which includes lyrics / scriptures from Easy Worship, or speaker slides) can also be included in the live broadcast: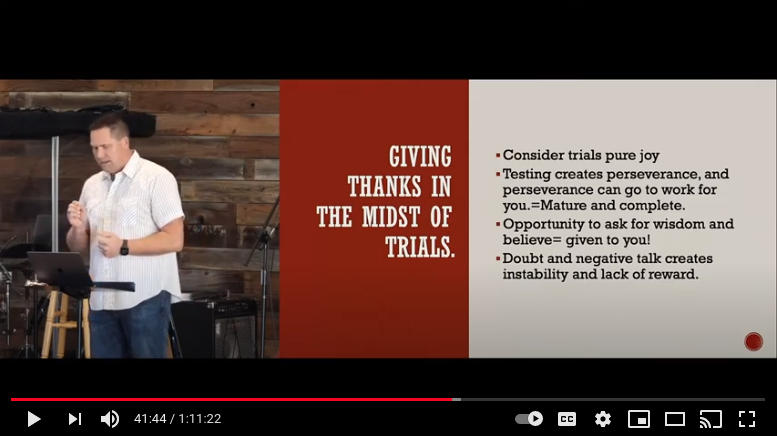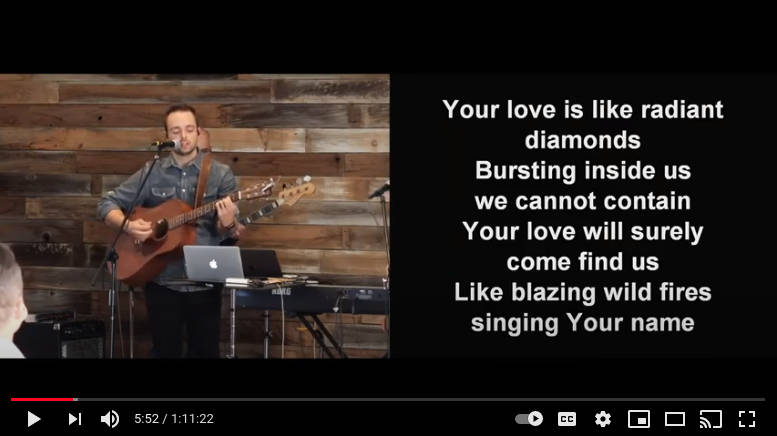 Planning Your Camera Location, Angle, and Framing
In addition to connectivity, another critical factor in camera / lens selection is the location, angle, and framing of your shots.
For a church, your subject may be a speaker, a worship band or choir, or perhaps a combination of subjects. You may need to pan and zoom the camera. You may need to deal with transitions, or crop the video frame in software. You may want to zoom out to capture the whole stage, or zoom in on a speaker. You might think about mounting the camera to a wall, ceiling, or tripod, in a temporary or permanent way.
Given your possible mounting locations, you'll need to calculate the necessary field of view (FOV) angle required to frame your shots (aka, the required magnification of the lens). If it's a zoom lens, it will have two FOV numbers - a smaller angle (telephoto) when zoomed in, and a larger angle (wide) when zoomed out. In general, lenses with greater magnification are more expensive.
For example, here are the horizontal FOV ratings on a few PTZ cameras (but keep in mind, a "3X" or "10X" zoom rating is marketing fluff with no standard basis, so you must look up FOV in the spec sheet for your specific model):
| | | | |
| --- | --- | --- | --- |
| Model | Telephoto FOV | Wide-angle FOV | Price |
| HuddleCam HD 3X zoom | 36° | 82° | $399 |
| HuddleCam HD 10X zoom | 7° | 57° | $899 |
| HuddleCam HD 20X zoom | 5° | 58° | $1099 |
Here are a few horizontal FOV ratings for some common DSLR lens focal lengths. Note that the "effective" FOV varies with sensor crop factor:
| | | | |
| --- | --- | --- | --- |
| Focal length | 1x Full Frame | 1.6x crop | 2.0x crop |
| 35mm | 54° | 36° | 29° |
| 50mm | 40° | 26° | 20° |
| 70mm | 29° | 18° | 14° |
| 100mm | 20° | 13° | 10° |
| 200mm | 10° | 6.5° | 5.1° |
| 500mm | 4.1° | 2.6° | 2° |
FOV Calculator / Frame Estimator
Here's a quick calculator to help determine the dimensions of your shot based on the distance from your camera to your subject, and the horizontal FOV of your lens:
If your camera and incoming video signal are 4k, and your output stream is 1080, then there's one more knob to play with for framing your shot: digital zoom. Technically you can take a 1920x1080 crop out of that 4k frame, and it's like being 50% closer to your subject. We do this with a 50mm fixed prime lens, and digitally "zoom out" to get full-stage shots, or zoom into a speaker, waist-up, with reasonable quality. In OBS studio mode, you can simply scale your video larger in the preview viewport, and then transition it live. This digital zooming has the additional benefit of not touching the camera (like with a zoom lens) which causes visible shaking in the video.
So, the framing, FOV, cabling, connections and mounting considerations will all help you decide exactly what camera and lens will best serve your needs.
Multiple Cameras
In general, the basic concepts above can be extrapolated, adding 1) another camera, 2) another capture card (or a multi-channel capture card), and 3) all the planning, mounting, and cabling described above. Your streaming software must support multiple inputs (I know firsthand that OBS and VMix do), and you may have to tinker with syncing each video input with the audio. Obviously, adding cameras increases the cost and complexity of your system.
However, there are some cheaper ways to make your stream more dynamic and interesting.
First, you can get a lot of mileage out of the "digital zoom" described above, to make your stream more dynamic without even adding a second camera. Every few minutes, if you change the "digital zoom" (for example, nicely fading between OBS scenes with different framing), you can keep the stream visually interesting even from a single camera input:
Second, if your streaming software supports NDI inputs (again, I know OBS and VMix do), then you can make an iPhone into a secondary or wide-shot camera relatively easily using the NDI Camera app. (There is a version for Android, but I've found it less stable and usable in live situations.) The phone must be on the same network as the computer running OBS / VMix. Resolution and quality may vary per device or network - you'll want to test this, and may find it best suited to secondary / creative / transitional shots.
Streaming Software
Ok, now that we've considered what kind of camera(s) we'll use, and how it'll connect to the computer (e.g. USB, SDI or HDMI encoder, etc), we now need streaming software, also known as video mixer, video switcher, or video broadcast software. Streaming software does a number of things, but at the core it composes your video stream from various components (video inputs, audio inputs, desktop capture, graphics, overlays, etc), and streams the result to your chosen destination.
There are a number of options for streaming software, including OBS Studio, vMix, Wirecast, Ecamm, etc. There are even online, in-browsers solutions from StreamYard, Be.Live, and others. Your choice will be guided by your budget, and whether your computer runs OSX or Windows.
This article won't spend a lot of time comparing all of the above - many great comparison articles exist. We gave VMix a spin and compared it to the free OBS Studio. At the end of the day, VMix and OBS accomplish a lot of the same things, including tons of options from audio to video to graphics, compositing, filters and processing. So while OBS is utilitarian and isn't perfect, it's an amazing piece of free software. Plus it has a vibrant community, and works on Windows and Mac computers alike.
While we don't have time to cover all the aspects of OBS, AJay Holmes has put together a great video packed with useful setup and tips for churches using OBS.
Streaming Computer / Workstation
A powerful computer is a necessity for quality video streaming. You'll want a high-end, quad-core (or better) processor, like an i7 or equivalent Ryzen. I would really recommend a desktop, as laptops tend to have low-power CPUs (even if they're labeled i7 or quad-core). You'll want at least 16GB of RAM.
As for a GPU - you'll have more flexibility in your streaming setup if you have one that supports hardware encoding, like an NVidia GTX 1660 or better (or the previous generation, GTX 1060 or better). If you have such a GPU, your streaming software may support using it to encode your video stream. In OBS, this option is found under settings, output, streaming, encoder:

Using your GPU to encode your video stream can take sigificant load off your CPU, so it's free to do other processing (playing videos, audio and filter processing, etc), and you'll have less chance of stuttering or dropped frames. There are mixed reviews about the quality of GPU encoding, though it was apparently improved in later generation graphics cards. Bottom line - if you have a powerful GPU, explore these options to keep your streaming computer running smoothly.
Note: You May Not Strictly Need a Computer
I will point out that a computer may not be necessary in every setup. There are hardware encoders (e.g. for example) that can transmit video directly to an RTMP-based service (like PolyStreamer, Facebook, or YouTube.) In this configuration, you also wouldn't use streaming software. The encoder will begin transmitting your video as soon as it's powered on. While potentially a cost savings, this setup comes with reduced flexibility, and the complexity of configuring the encoder. I only point it out as a possibility if a streaming computer is simply not an option.
Getting Audio into Your Stream
If you use the built-in microphone on your camera, you can skip this section. But most churches probably have some kind of audio mixer setup. There are a couple ways to pipe your mix into your stream.
Typically you'll want to mix the audio with the video stream in your streaming software on your computer. This is usually accomplished via an audio interface, or the computer's audio line input. Processing audio in software allows for adjusting the audio / video sync (in OBS, see Sync Offset under Advanced Audio Properties). Making the audio line up with the video is critical for high quality broadcasts. OBS has a "video delay" filter to help with this, so if you have multiple camera inputs with different latency, you can add various delays to get everything aligned.
In addition, software audio processing allows for filters like gain, compression, noise reduction, and more. In OBS, you'll find these settings by right clicking the audio or video source and looking for the "filters" menu, or under the "Audio Mixer" pane - look under the gear menu: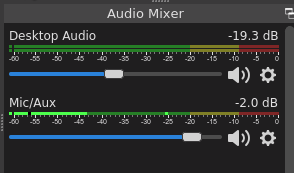 However, in some situations it may be simpler to pipe the audio directly into your hardware - your camera or HDMI encoder may have an audio line-in, as shown here: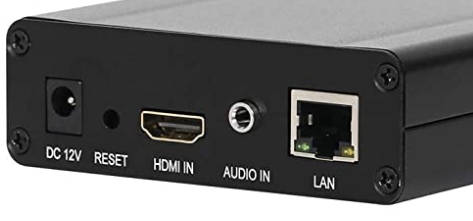 Multistreaming in software - you can, but should you?
It should be noted that some streaming software, including VMix, can multistream (also called simulcast) your stream to multiple destinations - but beware this has costs.
First, encoding and transmitting multiple copies of your stream will eat more of your CPU or GPU resources, as well as your upload Internet bandwidth. Upload bandwidth is typically very limited, often 10 times less than your download bandwidth. For example, many cable modem connections offer 80-100 Mbps download but only 5-10 Mbps upload. You can run a speedtest to determine your upload bandwidth, and watch your CPU / GPU usage in your system monitor or task manager. I would recommend staying under 75% usage of both, to account for occasional spikes.
Second, and maybe even more importantly, streaming to Facebook and YouTube simultaneously from your streaming software, you'll need to visit your Facebook and YouTube dashboards and setup the streams every time you want to go live. Both websites take a number of clicks and settings before you're ready (and sometimes they change their dashboards). This is a stressful couple minutes, right at crunch time when your broadcast is about to begin.
But, when you use cloud-based multistreaming, like PolyStreamer, your computer only encodes and transmits one copy of your video stream. The servers handle forwarding that stream to multiple destinations. And you don't need to visit each website, you simply hit "Start Stream" on PolyStreamer's dashboard, and their integration takes care of the rest. Watch the 3-minute quick start video to see just how it works: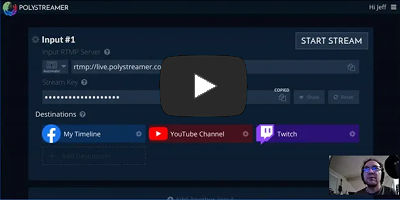 Our Setup
There's no one-size-fits-all live streaming setup, but here are a few components we used in our system:
We ended up choosing a Canon SL3 DSLR camera, as we've had previous DSLR experience. It outputs clean HDMI, has no recording time limit, and shoots at 1080 with a 1.6X crop factor, or 4k with a 2.6X crop factor. We experimented with a variety of lenses, but a 50mm lens at 4k, given our distance and stage, allows us to digitally zoom to a nice range of framings.
We capture the camera output with a Blackmagic Decklink Mini Recorder 4k encoder, and power the camera with an AC adapter. We attached our camera to the wall with a short and sturdy wall mount boom arm. On that we mounted a Bescor motorized pan & tilt head. Our camera is mounted in our AV booth, in the back-corner of our sanctuary. Feel free to browse our worship service videos (e.g. Nov 22, 2020) to see what kind of results this gives us, and compare to e.g. April 19th, when we were still using an iPhone.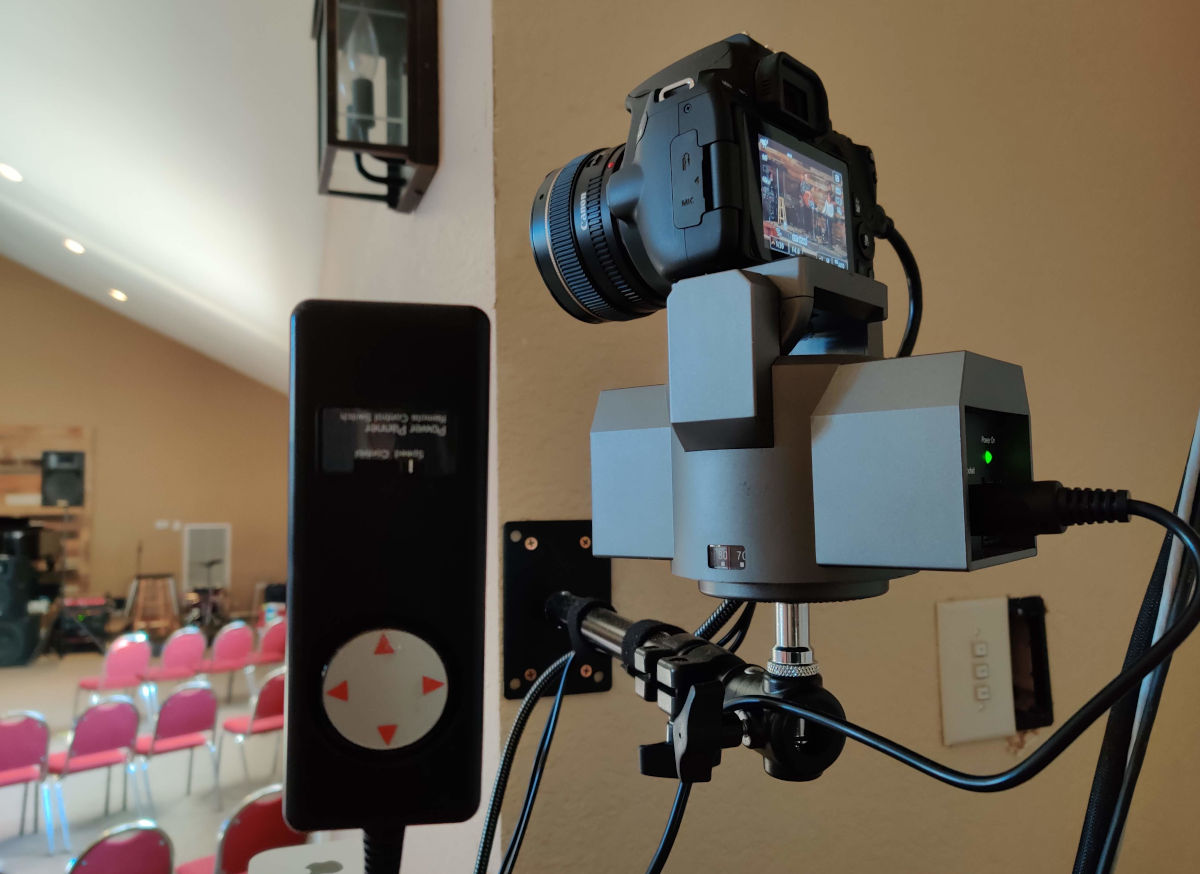 Recommended Resources
Jake Gosselin's channel, Churchfront, has a bunch of excellent videos on tech for churches, for example, this is budget-range camera shootout (which convinced us not to explore camcorders). While there is a bunch of fantastic info, note that many of their videos focus on more expensive equipment or services, and they also sell courses and other resources.
Ryland Russel of CBC Owasso put together a great video on their multi-camera DSLR setup.
AJay Holmes has a great video with a bunch of info about setting up and using OBS in a church service.